Commercial Solar Panels are taking the business world by storm. What used to be new technology and not given much thought in the boardroom, has now become major branding initiatives from some of the largest companies in the United States. Since around 2017 commercial solar power has begun to make a real presence. However, you do not need to choose one or the other.
Today, there are hundreds to potential applications for commercial and industrial solar power. As costs continue to spiral up, commercial solar power becomes an effective green energy solution to offset power costs and at the same time help fight  pollution from fossil fuels.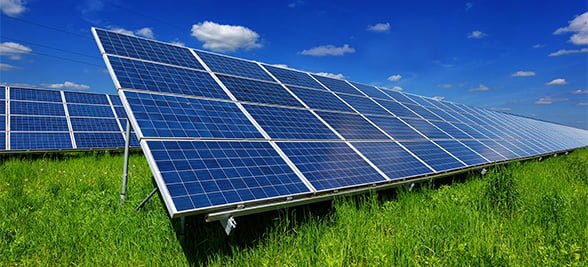 What about during days when it is cloudy?
If it is very cloudy and rainy all day the cells or panels will not generate much electricity. So when it is sunny you can do one of two things with the energy that is produced.
One, you can use storage batteries or banks. What energy that is not used immediately during the sunny days will go into a bank that stores the energy for later use.
Two, you can have the extra energy go into the electric grid of your local electric company. At the end of the month, your electric bill will be extremely low. But it is more likely the electric company may have to pay for the electricity that went into the grid.
How can Photovoltaic Solar Panels both Generate Energy and Heat Water?
Basically the panel soaks up the rays of the sun turning it into electricity. But, under the panels are hot water radiant tubes which heat the water. This system allows you to do both; create electricity and heat your water at the same time.
By heating your water at the same time as creating energy, you are saving that power that the hot water tank uses to heat the water. This allows you to store the energy in a battery bank or it to go into the electric company grid.
Types of Solar Panel Installations
There are four types of solar panel installation. They all are pretty much the same installation technology. The difference is the size, position, price, and reason. It is more of categories. The four main categories are:
Residential – homeowners can place panels on the roof or the ground. It saves them money on electricity each month.
Commercial and industrial – is similar to residential but requires more panels as commercial uses much more power than homeowners.
Utility-scale –electric companies are using solar to augment their fossil or nuclear energy so they can reduce those two for more green energy.
Each of these categories addresses a different need in the number of panels needed. And the location of the panels. One thing with the community is that allows people in the community who have nowhere to place panels to take advantage of solar energy.
Request a Quote for Commercial Solar Panels on Your Building
The time has come for every business to consider reducing the energy costs for your facility and create your own power. Modern Thermal Design is one of the most experienced and largest providers in the United States. Our portfolio of projects represent some of the best engineered commercial solar panel systems on the market today. With a large product offering from PV Solar to Thermal Solar and complete hot water systems to high efficiency boilers, biogas systems, and even systems that extract moisture from the air and convert it to drinking water.
A well engineered system from MTD not only will provide years of dependable power, but also qualify for some extraordinary tax benefits and federal government support of your efforts to create clean energy.  If your commercial or industrial business is looking to go green but wants to make sure you can take advantage of not only electricity but hot water contact Modern Thermal Design for a Utility Audit of your current usage and a quote on your own solar upgrade. Our sales and engineering teams can easily be reached at 317-934-5702,  and we will discuss what we can do for you.
UV Solar Thermal Economic Analysis