We are proud to offer our patented flagship SunQuest 250 solar thermal collectors…the best performing solar thermal system on the market today. Modern Thermal Design is the established leader in the Solar Thermal Collection industry. The equipment we offer is Third Generation and 96%+ efficient! And…the cost of our products are competitive with our less efficient competition. We have scores of successful commercial installations and happy, satisfied customers that are enjoying a payback for their investment in less than five years.  It only makes sense to use Proven technology and the company that prides itself on innovation customer service and continued research and development to make our panels even more efficient.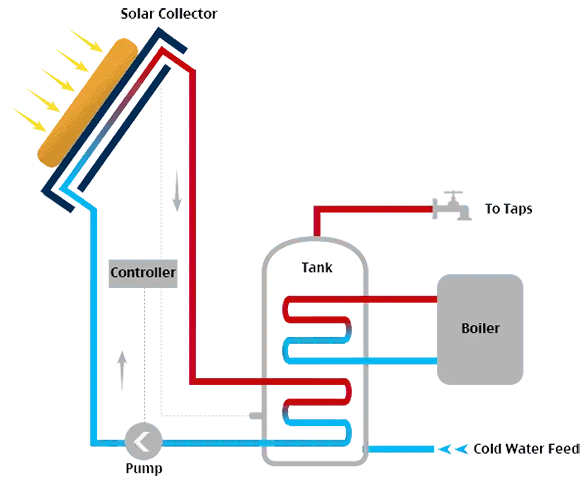 How Solar Thermal Panels Combined with Hot Water UV Tubes Work
Capturing sun light (UV-Ultra Violet) even on cloudy days, these are not electrical or gas but innovative solar thermal water heating panels. If you have a steam boiler, or use more than 300 gallons a day of hot water, you may be able to save money with our UV Solar designs.
It really is that simple.
Now, you may be asking why haven't I heard of this before or why don't more people use this method. Well, renewable energy is really fairly new (past 20 years) and so is just taking off. Why don't more people use this method for hot water? Well, they probably haven't heard of it or thought that it wouldn't work for them.
Many businesses are just now going green. They waited until it became available on a large scale base and prices were a little less expensive. PPAs helped with the financial aspects for businesses to join the renewable energy wave.
Benefits of a Solar Thermal Water Heating System
There are several benefits of a solar thermal water heating system for commercial and industrial business. Let's look at the benefits to businesses.
Some of those may sound a bit hard to understand like the federal investment tax credit of the solar renewable energy credits, but they aren't hard to grasp at all. We will break them down into the simplest terms for you.
The federal investment tax credit is the United States federal government provides an excise break that allows you a 30% rebate on the total price of your solar power system. We will use small numbers as an example. Let's say your solar thermal collector system cost $500,000.00, you will get a 30% tax credit on that cost, which is $150,000.00.
Accelerated depreciation is where you write off the entire cost of your commercial solar thermal panel system in the first year. Normally depreciation is spread over the lifetime of the item.
Do Solar Thermal Panels Work in Cold Weather?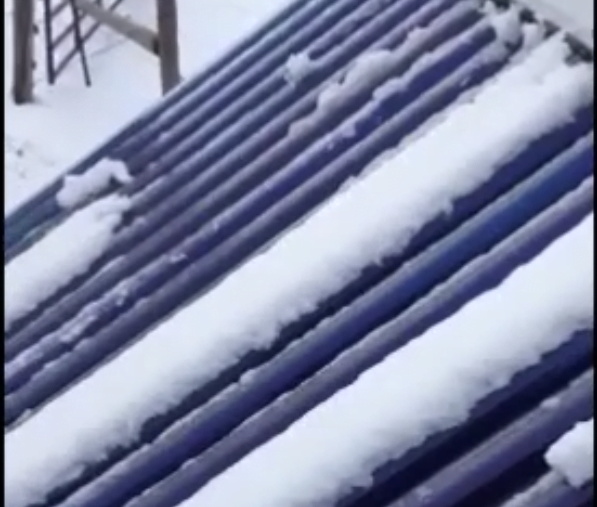 A good question and one that we get asked about daily. Which is why we decided to challenge ourselves and test our own SunQuest 250 Panel to see how it performs in less than ideal conditions. Note the details of the test including time, location, current weather conditions, temperature, etc. The image on the left is the actual panel in the test with parts of it covered in snow. We are supremely confident in the innovation achieved in the manufacturing of this top rated solar thermal panel. This test however blow us all away with such stunning results on a day that is typical for Indiana winters and the same for many states in the northern part of the country.
LOCATION – Indianapolis, Indiana
Date of Test – December 2022
Temperature – 19 degrees with winds at 8 mph
Conditions – Cloudy with snow flurries.
Panel Temperature – 298.4 Degrees WOW!
View the actual video here
Why Modern Thermal Design
Our client base represents the "who's, who" in Government, Industrial, Commercial and Institutional organizations. We are pleased to have members of our team sought after as advisors and board members because of their vast knowledge of renewable energy solutions and innovative ways to customize applications for any client situation. We are committed to providing renewable energy products for our end users that are genuinely revolutionary and more efficient than any other product on the market. Here's why you should use the same system to consider solar thermal energy for your hot water and space heating needs.
Easily retrofits into almost any existing hot water or space heat system
Proven to work extremely well in cloudy and cold climates
Interfaces very well with geo-thermal and with radiant floor systems
3rd generation and patented SunQuest 250 solar thermal collectors are 96% efficient
Simple system with only one moving part
Warranted for 10 years against 1″ hail and 150 MPH winds
SRCC certified and ARRA compliant (Made in America)
Become responsible corporate citizens by reducing the use of fossil fuels
Reduce dependence on foreign oil
Reduce greenhouse gases and carbon emissions
Take advantage of U.S. Federal 30% tax incentive – ACT NOW!
Receive Government GRANTS to help pay for your system
A steam boiler
Use more than 300 gallons a day of hot water